This year's WOMADelaide marked the return of international artists to the festival in full force. After two years of severely compromised events, with limited audiences and a focus on homegrown acts, patrons were clearly eager to reconnect with the WOMAD experience in all its multi-hued splendour.
Festival passes sold out in record time, and audience capacity was expanded from 25,000 to 30,000 per day. People flooded through the gates in greater numbers than at any time in the festival's history, keen to immerse themselves in this four-day celebration of music, arts and cultural diversity.
The impact of the larger crowds on festival amenities was immediately apparent, and patience was tested by dauntingly long queues for toilets, food and drinks. It was challenging to move around the site at Botanic Park; to find a place to sit or stand near any of the stages; to catch a glimpse of roving artists; to be spontaneous and modify your festival schedule on a whim.
Yes, it was a thrill to be enveloped by the roar of the crowd as Florence + The Machine swept on to Foundation stage on Saturday night, Florence Welch looking like a pre-Raphaelite sprite but sounding like a rock goddess as her voice soared over an endless sea of ecstatic faces. Yes, it was stirring to see Sampa the Great stoking the crowd into a state of undulating delight, accompanied by a formidable Zambian band that highlighted the raw power and conviction of Sampa's vocals.
But many patrons (myself included) found the crowds overwhelming at times, and – having been a regular visitor at WOMADelaide for more than two decades – I did feel that the carefree, relaxed spirit I associate with the festival was harder to find this year.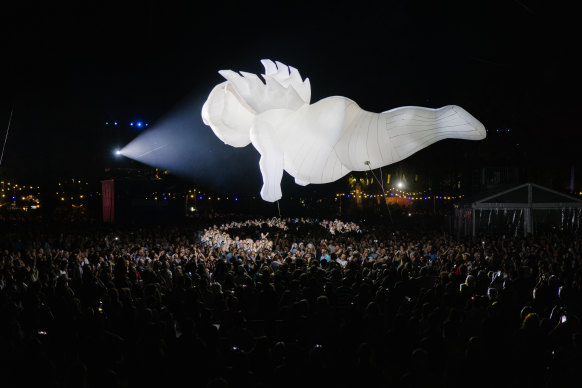 Fortunately, on an artistic level, the festival program was as impressively eclectic and nourishing as ever. It was worth scrambling through a forest of picnic chairs and blankets and peering through branches to catch a glimpse of Bela Fleck and Abigail Washington, their twin banjos picking out entrancing melodies. On the same stage, Canadian/Ukranian trio Balaklava Blues transported us far from Botanic Park into the scarred cities of war-torn Ukraine, their dazzling set – blending traditional folk with techno and trance music – accompanied by potent visual imagery and heart-rending stories from their homeland. Germany's MEUTE also created a techno party, but from purely acoustic instruments. Their thumping rhythm section was made up of marching-band drums and a sousaphone, with pulsating horns, marimba and playful choreographed moves urging the audience to move with them.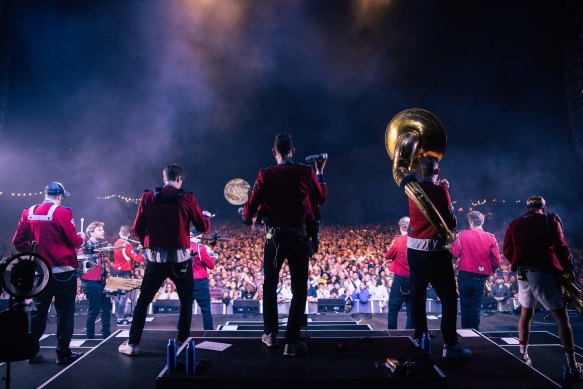 A succession of remarkable violinists conjured wildly diverse musical worlds on Sunday afternoon: Romania's Gheorghe 'Caliu' Anghel with his latest gypsy project Taraf de Caliu; Italy's Mauro Durante in an intimate duo with UK guitarist Justin Adams; and David Harrington and John Sherba as part of the venerable Kronos Quartet's final Australian tour.