The 62-year-old actor, who has won a BAFTA, a Golden Globe and an Honorary César, has copped a roasting, mostly in the American showbiz press and on social media, for apparently being "rude". At the very worst he was trying to be droll.
Grant, whose 53 films have grossed around US$3 billion worldwide and who Time Out magazine listed last year as one of Britain's greatest actors of all time, upset Planet Hollywood for giving apparently underwhelming responses, to equally underwhelming questions.
Graham, 35, an American celebrity model who has also designed her own lingerie range, was asking Grant the usual, well-worn (worn out?) red carpet questions: What are you wearing? Who are you excited to see? What do you love about the Oscars?
Covering such a red carpet is a daunting challenge for even the most experienced hands, as Sonia Kruger could no doubt attest, as she watched most of the big-name stars sail past her tiny patch on the beige pile. Our fabulous blonde was gazumped by much more famous correspondents from much more powerful media outlets than little old Seven Network from Down Under. But she did get Baz, Catherine, Nicole and Keith to stop.
So, Graham had clearly scored a coup when she hooked Grant.
"What's your favourite thing about coming to the Oscars?" she asked, before Grant attempted to give a slightly more considered answer than the meaningless sound bites being spouted by all the others: "The whole of humanity is here. It's Vanity Fair."
Grant was referring to the hilariously scathing novel Vanity Fair by English author William Makepeace Thackeray, which satirised the pomp and frivolity of high society in early 19th-century Britain. As his peers preened and pouted all around him, the parallels were plain to see.
But Graham clearly misunderstood, thinking he was referring to the magazine Vanity Fair's celebrated after-party, where the stars converge in an ultra-exclusive, over-the-top, bacchanalian knees-up that generates almost as much hyperbole as the Oscars itself.
Grant's face said it all, a look of disbelief, incredulity and gob-smacking irony as Graham talked up the action at the after-party.
Unfazed, the model kept her toothy smile firmly fixed and ploughed on, the voices of her producers no doubt crackling through her earpiece, guiding her every move.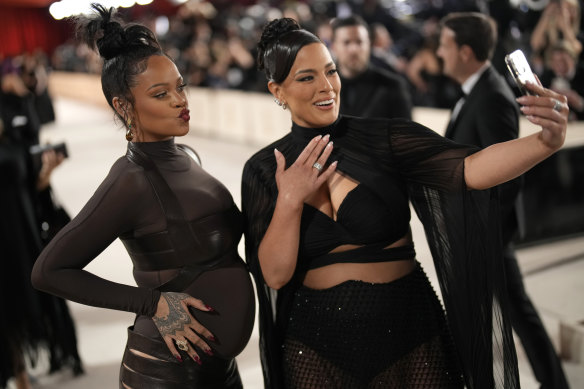 She then asked Grant who he was most excited to see at the show. Sounding a little perplexed, after a short pause, Grant responded: "No one in particular."
Unperturbed, Graham resorted to the one supposedly foolproof red carpet question guaranteed to fill airtime, asking Grant: "What are you wearing tonight?"
"Just my suit … I can't remember my tailor," the actor responded.
Struggling for a new line of questioning, Graham then brought up Grant's blink-and-you'd-miss-it appearance in Glass Onion, which was nominated for Best Adapted Screenplay.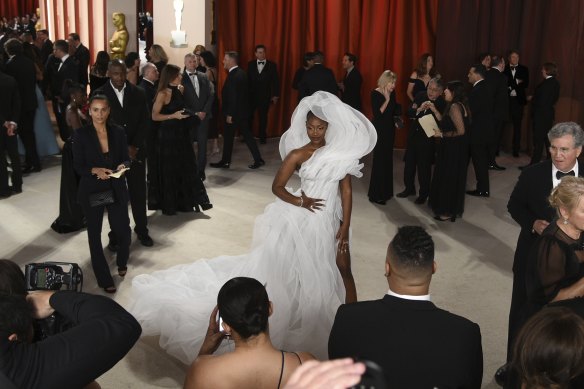 "Well, I'm barely in it," he humbly told Graham. "I'm in it for about three seconds."
Grant could later be seen rolling his eyes and raising his eyebrow as he walked away.
Sadly, Graham didn't get to ask Grant about whether his tuxedo was "sustainable", which became the buzzword in the coverage of this year's awards red carpet fashion coverage, which hailed stars as environmental warriors for re-wearing the same haute couture gowns they had worn a few years before. I can only imagine the green credentials my threadbare tracksuit pants have earned.
Loading
No mention was made of the private jets Hollywood stars regularly fly about in, the limousines burning up fossil fuel to ship them to the red carpet, the environmental impact of the mines which produced their dazzling jewels or the carbon footprint of the small army of stylists, designers, hairdressers, makeup artists, videographers, photographers and publicists enlisted to get them looking so flawless.
Strangely, no one was rolling their eyes about any of that.
Find out the next TV, streaming series and movies to add to your must-sees. Get The Watchlist delivered every Thursday.