On the more low-tech end of the spectrum there was The River That Ran Uphill, a hard-hitting yet hopeful story about a cyclone that ravaged Vanuatu in 2015 that relied on little more than a blue tarp and clever use of lighting.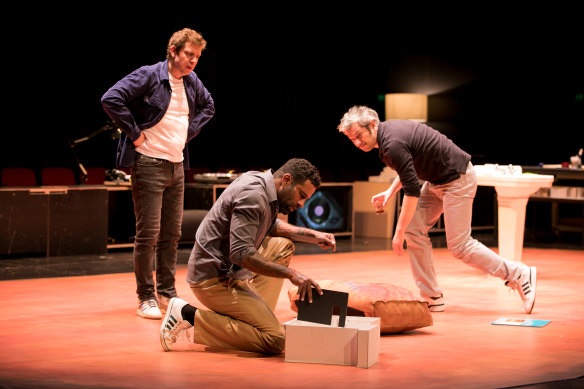 Then there was the four-hour Dutch stage adaptation of the trauma-filled novel A Little Life. A small group of musicians live-scored the performance, and the set featured an operational kitchen which characters used throughout, the smell of cooking invoking a sense of safety and comfort that would be suddenly wrenched away by a single line or a horrifying flashback.
The production asked a lot of both performers and audience with its marathon run time and brutal scenes of assault and self-harm. The stage was positioned in the centre of the room, with audiences seated on opposite sides, which meant that every time I turned away as protagonist Jude took a blade to his skin, I watched as a man on the other side also looked anywhere else but the stage.
Unexpectedly, the show also asked a lot of its assistant director, Daniël 't Hoen – on the night I attended, one of the actors was ill, and so Hoen stepped in. The audience were told he had no acting experience and would often be reading from the script but – beyond not physically fitting the description of the role – Hoen was a natural.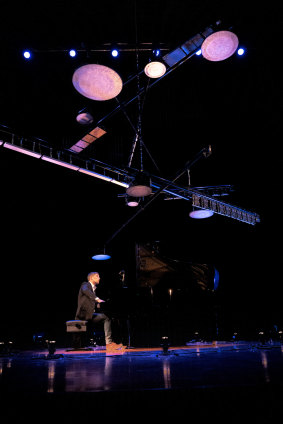 There seemed to be a strange run of accidents, arrests, controversies, and unfortunate events that the festival needed to quickly find ways to work around. Both the opening night of Jekyll and Hyde and Messa da Requiem were paused due to medical emergencies (one in the audience and one backstage), a performer was charged for an "indecent act" on his flight to Australia, and two visual art exhibitions were migrated from their original location at the Samstag Museum to a space in the Adelaide Railway Station.
The Adelaide Festival's programming of shows that are willing to experiment, that aren't a sure thing, is something to be valued. Having a safe run of shows that are simply fine but extremely unmemorable is ultimately boring and stagnating.
Sometimes the experiment doesn't quite work out. At The Cage Project, pianist Cédric Tiberghien started the concert by explaining that what looked like a conventional grand piano topped by a gently rotating sculpture was, in fact, a new kind of instrument. The structure above him was programmed to respond to his commands as he played, with the piano also adapted to make discordant and unexpected sounds.
It was an ambitious work where unfortunately the idea was stronger than the execution – there was little to no variation in any of the music across the hour and 15 minutes, making it feel less like a concert and more like a talented musician tuning a piano.
But that's the cost of taking a risk – sometimes it falls flat, but other times it results in remarkable work that will stick with you forever, that will help move a craft forwards.
Elizabeth Flux travelled to Adelaide as a guest of Adelaide Festival.
A cultural guide to going out and loving your city. Sign up to our Culture Fix newsletter here.