Belgrade-born, Sydney-raised actor Bojana (pronounced "boy-yana") Novakovic has been making up for lost time, getting to know her taboo-busting aunty, "the most sought-after hairdresser in rural Serbia", a brash, loud and confident bohemian whose taste in vintage clothes made her stand out at glamorous parties.
Between seasons of playing headstrong, sarcastic Clara in the Melbourne-set Binge series Love Me, Novakovic is completing her writing and directing debut. It's a "documentary soap opera" called The Forbidden Aunt, in which she interviews her aunt, Gordana, who is at times suspicious of her niece's motives.
Novakovic, 41, also acts in the film, portraying her aunt as a character in a Turkish soap opera, a genre Gordana loves. The film is both an exercise in understanding how women in her family have fared in "patriarchal, communist" Serbia, as well as a way to get to know this ebullient aunty.
"I wasn't allowed to hang out with her when I was younger, because she had a drinking problem," says Novakovic via video call. She's speaking from her book- and photograph-lined living room in Astoria, a neighbourhood in the New York City borough of Queens she loves for its melting pot of Greeks, South Asians, Arabs and people from the former Yugoslavia.
Novakovic has been splitting her time of late between the US, Australia, and Japan, where she's been acting in film and television, and interspersing all that with frequent trips to Serbia. Family and friends across continents have commented that she is much more like Gordana than her own mother, Biljana, Gordana's sister.
"My aunt drank like a fish, like me," says Novakovic, tilting her head and resting her chin mock-coquettishly on overturned hands before adding: "She had a lot of lovers, like me."
She laughs. "We found photos of me and all my ex-boyfriends and her and all her ex-boyfriends, and we both used to fall in love, like, you know …" On a dime? "Like it had no consequences."
Novakovic's own youthful battles with the bottle developed entirely without knowledge of her headstrong aunt's alcohol problem. "I don't drink now, and I haven't drunk for 17 years. I had issues with addiction and food disorders … they were really taking over my life."
"I don't drink now, and I haven't drunk for 17 years. I had issues with addiction and food disorders. They were really taking over my life."
Followers of Novakovic on social media won't find the actor indulging in the "culture of exhibitionism" about addiction issues, however. She's more likely to express deeply held concerns about the environmental impact of, say, Rio Tinto's proposed lithium mine in Serbia, although she will talk about past addiction for the right audience – say, when talking to young people about mental health.
"We have a culture of exhibitionism about how tough life can be," she says. "I don't need to exhibit – you know, 'poor me'. Instagram's not for that."
Novakovic carefully curates her personal story on her terms, with an eye to the greater good. In 2019, she wrote the foreword to a book called Beating Endo: How to Reclaim Your Life from Endometriosis. In 2020, a further essay detailed living with endometriosis for more than 20 years, beginning with being falsely told as a teenager it was "normal for girls to have painful periods".
After a laparoscopy in 2005 came up negative for endometriosis, "I was told the pain was in my head", Novakovic wrote. Then followed a long journey to being diagnosed in 2017 with small intestinal bacterial overgrowth (SIBO), an inflammatory condition which led to a gynaecologist proposing she had long-standing endometriosis.
"The condition doesn't just affect the pelvic region," she wrote. "The body's response to the inflammation it causes sensitises the central nervous system and that can cause emotional symptoms, too, like anxiety."
Novakovic saw a therapist for the anxiety. "In therapy, I realised that my recovery hinged on not just following diets and procedures, but also on being honest about my pain – first with myself and then with my partner.
"In relationships, I often strove to be a super-human, super-cool, I-can-do-everything girlfriend. After my diagnosis, I made a huge change. I never pretended that I was physically better than I actually was."
Novakovic came to Australia at the age of seven with her computer programmer parents, Radovan and Biljana, and went to the McDonald College in Sydney's North Strathfield. (Her mother became a sculptor, gaining two master's degrees in fine arts.) Meanwhile Novakovic, already an avid watcher of nightly news bulletins to keep up with the wars in Yugoslavia, became involved in protests from the age of 14, notably a student strike in the mid-1990s against French nuclear testing in the Pacific.
Loading
Novakovic remembers being affected by the deaths of children in war. "I wanted to become Princess Diana; she was helping kids. I was like: I have to be famous, and how do I become famous? I become Princess Diana. And how do I become Princess Diana? Well, I marry a prince. And how do I marry a prince? When I was 10, I saw a documentary about Grace Kelly, and I was like: I become an actress!"
The writers of Love Me might not realise it, but Novakovic brings much of her own experience and outlook on life to playing Clara. In the first season, set amid a Melbourne winter full of scarves, coats and gloves, Clara used humour and sarcasm to fend off commitment with her boyfriend Peter (Bob Morley).
Season two is set in the Melbourne spring, and Clara has let her guard down with Peter but is struggling to get pregnant. "It's all she wants," says Novakovic.
While season one portrayed three family members' different responses
to grief at the death of the family matriarch Christine (Sarah Peirse), a different form of grief emerges for Clara, "the grief of being able to have a child or not. Her brother Aaron [William Lodder] has got this baby and Clara's struggling to get pregnant, and that's affecting the relationship with Peter in a very specific way".
Many of Novakovic's girlfriends loved the first season, but thought Peter was "unrealistically amazing" as a boyfriend. "Well, in season two he's not that freakin' amazing," Novakovic says, laughing.
Peter starts to have misgivings about the relationship. "He's actually a human being with a lot of issues," she adds. "His hesitancy is completely justified, by the way, but there is no way that Clara and a slew of other women I know – I might even be one of them – is ever going to compromise.
"She's 39, nearly 40. You don't wait for someone to get their shit together so you can get pregnant, especially if you haven't frozen your eggs."
"She's 39, nearly 40. You don't wait for someone to get their shit together so you can get pregnant."
We speak about how Novakovic's life informs Clara's storyline in season two, but she asks to keep the details off the record. Likewise, Novakovic never names her boyfriends – she's never shown one on her Instagram account – and won't discuss her current partner, except to shake her head and wave her hand dismissively when I ask if he's also an actor.
We talk about how a parent failing to say they love their child, as with Clara and her mother Christine, can shape a child's defences. Clara's father Glen (Hugo Weaving), on the other hand, makes his love for his daughter clear.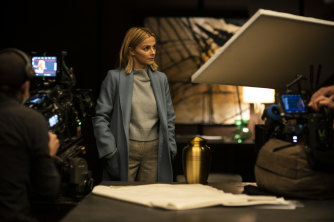 "By the time you're able to actually intellectualise your parents' inability to talk about love, it's already too late," she says. "The formation of your character, your defence, is based on your certain amount of self-loathing.
"Whether that self-loathing ends up driving you towards some form of success, or whether it actually ends up imploding and creating depression and anxiety, or whether it does both, it's already done, that character is formed.
Loading
"I feel like that element was such a crucial part of understanding Clara for season one because it played a big part of her not letting anyone in. It's 'If I'm such a piece of shit, then how can anybody like me?' And 'If someone does like me, then they can't be that great because they don't really know me; I'm fooling them really well.' "
Not surprisingly, Novakovic has some ideas for her character's development if Love Me gets the green light for a third season. "It might not be a bad idea if Clara goes into therapy, and we talk about all of this," she says. "My experience is that you go for the parent [who says they love you], because you want to feel validated."