During the vérité film, Fleit follows four young women embedded in the rush process. For most of them, it begins as a light-hearted journey of self-discovery – an opportunity to explore their budding womanhood alongside new friends. But the closer they get to "sorority row", the more visible its dark underbelly becomes.
Fleit and her crew are forbidden to film inside sorority houses. One of the girls, Holliday, was dropped from her sorority for wearing the wrong sorority sticker. Other girls speak of being tried before sorority "judging panels" for something as minor as going upstairs in a frat house. Paranoid members refuse to speak about "The Machine", a secret society rumoured to control campus for the elite, for fear of being dropped.
During the film, rush is described as a "social stratification ritual", a form of "competitive femininity". Girls race for spots in the top houses (usually labelled as such by male fraternity members), which generally boast the most power, status and prestige on campus. Some even hire professional "rush consultants" who guide them through rush week, helping them create sorority CVs, select their clothing and instruct them on "appropriate" conversation (ie. avoid the five B's – boys, booze, bible, bucks and Biden).
Representation is everything, Fleit says. One scene depicts members editing photos of each other on their phones. They whiten teeth, slim down arms and tighten waists while explaining every little detail counts when the goal is perfection.
"Individuality is so lacking," Fleit says. "One of my characters, the young woman Rian, said it so poignantly … she says something like, 'I hope these institutions will start to take care of the well-being of its members and really support the individuality of its members'."
One prospective member, Makayla, slowly changes her entire appearance in a bid to "fit in". She's introduced as a quiet, curly haired girl who listens to rap in her car. By the end of the film, she has straightened and lightened her hair, bought frilly dresses, and forced a smile during pageant-style photoshoots with her rush consultant. She edges her way towards being a carbon copy of existing sorority members, but the conformity eventually proves too much. She pulls out of rush, saying it wasn't "her style".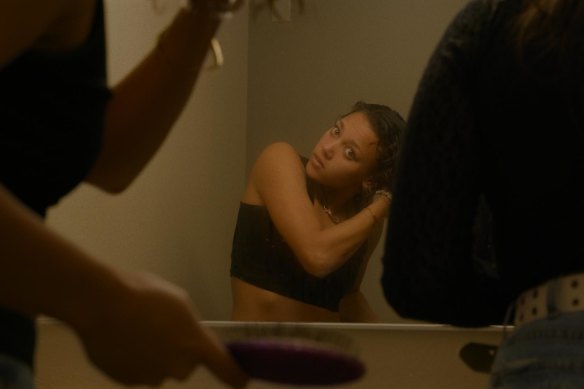 "There are good things about this tradition, there are bad things, and there are very confusing things, so I stand somewhere in the middle of it all," Fleit says.
"It's so nuanced. Isabelle had such an intense, traumatic experience right before rush began, and then you see how she was embraced during the rush experience, embraced by her sorority and the system. Then you have someone like Holliday, who gets dropped from the sorority for something quite minimal. It really runs the gamut."
Loading
Fleit describes sororities as a rose with thorns. They can guide women during the turbulent transition from school to university, embedding them within close-knit communities. But this sense of belonging often comes at a price, one that many – even those outside US sororities – have at some point been willing to pay.
"We all just need and want to be seen. I hope that young women can see themselves in the young women in this film, that they can identify and feel less alone … I hope people just get it and are like, 'I want to belong too. This is what I do to belong'."
Bama Rush is now available to stream on Binge.
Find out the next TV, streaming series and movies to add to your must-sees. Get The Watchlist delivered every Thursday.