The song cycle started in the early hours of Monday, at the front steps of the Adelaide Hilton, on an otherwise deserted street.
It had been a large WOMADelaide Sunday afternoon of west African rhythm harps, dub sirens and desert wind synth-trails courtesy of Julian Belbachir and friends. It was electrified by Fantastic Negrito's hill country stomp and delta groove blues with added layers of hymnals and funk, and spurred on by the 14-piece Ondatropica, whose one-show-only late night set blasted hot salsa, cumbia, Afrobeat, reggae, and Latin jazz horns.
The crowd mingling on the pathway in front of the hotel's portico swelled with each arriving shuttle bus of musicians, managers, and organisers, buzzing over a set they'd delivered or seen, high from kicking all day with other performers backstage.
From the edge of the steps, Nidia Góngora began to sing a Colombian folk song a cappella that struck the crowd of artists dumb. It began plaintive and rose to an emboldened call and response. A circle formed, keeping steady time clapping hands, stomping feet on concrete paths, stairs, or walloping the portico's masonry. The song cycled up, rolled around, was met with ecstatic hollering. Then somebody brought out a Brazilian tamborim drum.
Artists in the hotel rooms above rode the elevators down. More folkloric songs from other corners of the world cycled in. Cultural songs of longing, despair, and sad beauty; old songs of loss, dignity, and triumph; each performed at the top of the lungs.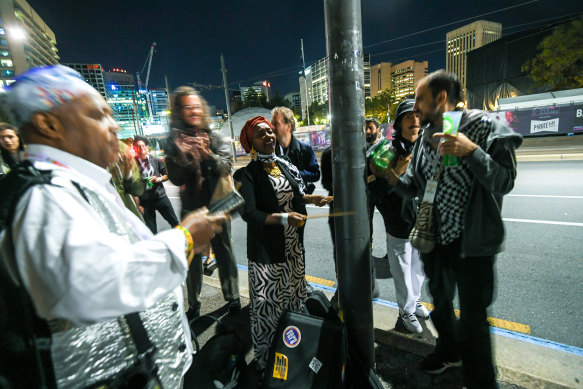 When the hotel concierge emerged, begging for an end to the impromptu concert, the session moved to the street. First beside a bench, then a nearby sliver of park, and finally at the empty roadside, where Góngora now began to play the steel pole of a street lamp masterfully with a set of wooden drumsticks.
Players spontaneously joined her pole percussion section. A cowbell revealed itself. A squeezebox entered, then a clarinet and a tenor saxophone from the German techno marching band, MEUTE. A flurry of Romany violin streaked in next, played by the virtuoso, Gheorghe "Caliu" Anghel. His bow dashed across the catgut, the rapid riffs squiggling off his shoulder into the skinny morning air.