On a night when two Asian actors won Oscars for the first time, Malaysian-born Yeoh said her award was "a beacon of hope and possibilities" for "all the little boys and girls who look like me". She continued with a dig at Hollywood's attitude to ageing actresses: "Ladies, don't let anybody tell you you're ever past your prime".
There were early tears at the awards when Ke Huy Quan, a former child star in Indiana Jones and the Temple of Doom and The Goonies, who had to stop acting for decades for lack of opportunities, won best supporting actor for Everywhere Everywhere.
"My journey started on a boat," The Vietnamese-born actor said. "I spent a year in a refugee camp and somehow I ended up here on Hollywood's biggest stage. They say stories like this only happen in the movies. I cannot believe it's happening to me. This is the American dream!"
There were more tears when Fraser won best actor for his comeback to mainstream Hollywood to play an obese English professor in The Whale.
"I started in this business 30 years ago and things, they didn't come easily to me," he said. "It's been like I've been on a diving expedition on the bottom of the ocean and the air on the line to the surface is on a launch being watched over by some people in my life."
Jamie Lee Curtis, who has joked about being a "nepo baby" as the daughter of Oscar-nominated Hollywood stars Tony Curtis and Janet Leigh, went one better when she won best supporting actress for playing a severe tax auditor in Everything Everywhere. She referred to her long career that has included starring in a series of Halloween movies.
"To all of the people who have supported the genre movies that I have made for all these years – the thousands and hundreds of thousands of people – we just won an Oscar," Curtis said. "Together."
Introducing the In Memoriam segment, John Travolta teared up as he flagged a mention of the late Olivia Newton-John by saying these were people to whom we would remain "hopelessly devoted".
The two Hollywood box office triumphs that were up for best picture won a single Oscar each: Avatar: The Way of Water claimed best visual effects and Top Gun: Maverick collected best sound. Best animated feature film went to Guillermo del Toro's Pinocchio.
On the champagne carpet before the awards, Luhrmann cited a Lizzo lyric when he said "it's about damn time" a woman won best cinematography at the Oscars for the first time in more than 90 years.
But Mandy Walker, who shot Elvis, missed out on smashing another glass ceiling – she was the first woman to win at Australia's AACTA Awards – when the Oscar went to James Friend for All Quiet On The Western Front.
But awards history was made when costume designer Ruth E. Carter became the first Black woman to win two Oscars. Having won her first for Black Panther, she won again for the sequel Black Panther: Wakanda Forever.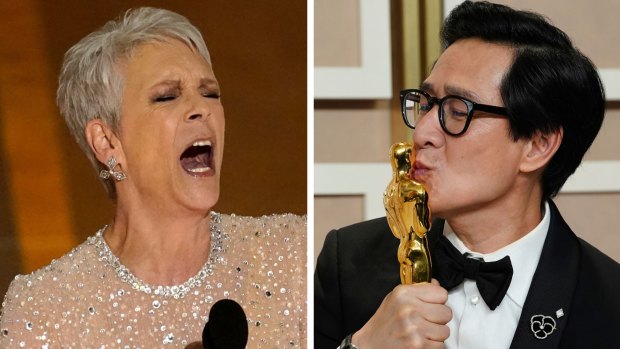 Host Jimmy Kimmel, who was the steady hand the Oscars needed after last year's incendiary controversy, started off by joking about what would happen to anyone who committed an act of violence this time: "You'll be awarded the Oscar for best actor and permitted to give a 19-minute-long speech".
Actress-writer-director Sarah Polley had a shot at the Oscars' failure to nominate a woman for best director this year when she won best adapted screenplay for Women Talking. "I just want to thank the Academy for not being mortally offended by the words 'women' and 'talking' put close together like that," she said.
The most political moment at the awards was when best feature documentary went to Navalny, which shows Russian opposition leader Alexei Navalny tricking the country's spies into revealing details of the 2020 plot to poison him.
Director Daniel Roher said Navalny "remains in solitary confinement for what he calls – I want to make sure we get his words exactly right – Vladimir Putin's unjust war in Ukraine".
Even amid all the Everything Everywhere success, one of the most heartwarming moments was when writer-directors Tom Berkeley and Ross White encouraged the audience to sing Happy Birthday to actor James Martin, who has Down Syndrome, when they won best live action short for An Irish Goodbye.
A cultural guide to going out and loving your city. Sign up to our Culture Fix newsletter here.